47 Years of Spectacular Golf!
Ocean Shores Golf Course opened in 1961 as a 6-hole golf course. Two years later three more holes were added to complete a nine-hole track. Then in 1966, during a development boom at Ocean Shores, the current front nine was completed. Singer/actor Pat Boone and Ginny Simms were involved in this phase of development.
In 1966 Pat Boone started hosting his Celebrity Golf Classic at Ocean Shores. Celebrities such as Clint Eastwood, Joe Namath and Fred MacMurray to name just a few, came to play in this event. This format continued until 1970 when it OSGC became a regular L.P.G.A. Tour stop. Many women's tour stars, such as Kathy Whitworth, Althea Gibson, JoAnne Carner and Patty Berg began building their reputations here.
The course has also hosted such prestigious events as the 1971 Northwest Open, the 1990 Pacific Northwest Pro-Am, N.F.L. Celebrity Classics and, most recently, the 2007 PNGA Junior Girls' Championship.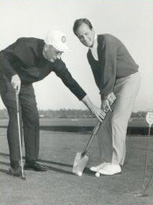 Pat Boone practicing his "coastal" putt.

Clint Eastwood gets ready to tee off in 1966